Thoughts about my performance by Swing MASA
What it means to be "me" and the message of my jazz music, "Don't Kill":
My performance is for the recovery of "myself," the me that is shrinking in this era of backlash
and the rise of conservatism.
Who am I?
When 9/11 happened, I was at my home in Harlem, in New York City. I saw the shocking
images on TV at my local grocery store. I watched television at my friend's house every day in
search of the truth about the incident. The TV stations had stopped broadcasting all regular
programming and commercials, and showed only the incident. During those three days of
watching broadcasts about the incident, I grew frightened. I was afraid of the media's
manipulative depictions of everyone in the world as being supportive of a war of revenge. And
then there was the me who was so afraid of the television's propaganda that I couldn't even
express my true feelings of opposition to the war. I stopped watching television after that.
Who am I?
I don't know. But I can say this much for sure:
Whatever the age, whatever happens in front of my eyes, whatever, whenever,
I am the person who signed on to living the life of SwingMASA.
I am the only person who is with her from the beginning to the end of her life.
Who am I?
One morning, I found within me "Maa-chan," a me inside myself, crying; my young child self.
I asked her why she was crying, and "Maa-chan" said "I am scared because I am always being
scolded by MASA." ...
I felt love for this very young "Maa-chan" who was inside me. I was sorry for her. …
I wasn't being kind and gentle to myself at all. I was only worried about producing results.
Now, I am afraid of this war for "justice." I hate this war!!
Who am I?
Five years after 9/11, people have started to understand why it happened.
People around the world do not fear another 9/11-type incident itself, but they are truly scared of
this war for "justice" by the United States.
The Star-Spangled Banner and the Hi-no-maru (Japan's Rising Sun Flag) are eating away at the
peace inside me.
Who am I?
Here are some decisions that I have made since I reached the age of 40:
That I don't blame the me who has made mistakes.
That I forgive the me who has failed.
That I understand the me who is a hopelessly narcissistic coward, a little more.
That I accept everything about me.
That I love and have become the best friend of myself.
That I love, respect, and care for me.
That I love me even if my growth and happiness do not come true in the ways I wish.
That I will never give up on myself based on my viewpoint, even though people treat me badly,
And that I will be the me who I would like to spend the rest of my life with.
I will listen to the voice of my mind, I will walk with my own rhythm and tempo.
Just a little courage is enough. With a little courage, I will never forget to express myself,
in order for me to be myself.
***
My sexuality and me: liberation from the spell of sexuality:
I fall in love with people regardless of their gender.
The history of my own sexual experiences: I used to be heterosexual because it was the only way
I knew of, because of social norms. Then one day, I realized I had become a lesbian. I am not
interested in men, and I'm not good at dealing with hyper-masculine or hyper-feminine types.
Romantic love for me is about how I can construct a human relationship, rather than that
person's sex and gender. While I was undergoing counseling, I became interested in this person
called "me." I had a tough time figuring out how to live with this difficult self, but.nowadays,
I've gotten pretty friendly with her.
I have enjoyed being single for about fifteen years.
It's beginning to seem that my sexuality is about playing SwingMASA. Could it be? That's what
it feels like.
I want to go on fighting homophobia.
***
Performance—self-realization—the moment of supreme happiness
Swing MASA Jazz Saxophone & Voice / Feminist / Pacifist
中学入学と同時に吹奏楽部でサックスを吹き始める。
 高校時代、John .ColtraneのMy Favorite Thingsを聞いて大きなインパクトを受けたことがきっかけとなり、Jazzへと傾倒してゆく。またこの時期から、種々の社会矛盾に強い憤りを感じる自己を意識するようになる。
 1979年頃からウーマンリブの洗礼を受け、それまで自分が見たことがなかった、女性のジャズサックス奏者を目指すことを決心する。
 様々なバンドでの活動を経た後、1987年、友人、支援者の出資金でJazz修行のためNew Yorkへと渡り、そこで様々なJazz体験をかさねる。
 1992年、Michigan Womyns'Music Festivalに出演。以来、数々のウーマンズ・ミュージック・フェスティバル、コンサート、Jazzクラブ等に出演する。またこの年から、  年1,2回のペースで帰国、日本においてDon`t Killというテーマでコンサートツアーを行っている。
 1996年、New School University Jazz & Contemporaryを卒業(BFA)。在学中、Reggie Workman, Bross Townsendらに師事する。
 1997年、当時出演していたJazzクラブであるBirdlandのサポートによりアーティストビザを取得。
 1999年、演奏活動の実績が認められ、Jazz Saxophone Playerとして、グリーンカード(アメリカ合衆国永住権)を取得。
 2001年、大阪府よりプリムラ奨励賞を受賞。
 2003年3月、企画、運営、出演、観客すべてを女性のみでおこなうInternational Womyns` Jazz Festivalをプロデュースし、大阪府ドーンセンターで開催。
 New York、Harlem在住。アメリカと日本を行ったり来たりしながら演奏活動を続け、現在に至る。
これまでに共演した著名なアーティスト(敬称略)
Dennis Charles(ds), Zane Massey(ts), Ricky Ford(ts), Arnie Lawrence(as),
Bross Townsend(p), Cecil Monroe(ds), Calvin Jones(b), Ms Miche(vo),
Suhir Blackeagle(vo), Ubaka Hill (perc) 秋吉敏子(p), 那須シズノ(dance), 坂口登(絵),
山賀清春(絵),
大塚まさじ、佐渡山豊、三上寛、etc.
 ディスコグラフィー
「明けの星を見上げて」(1995年発表)
「Swing MASA Band」( July 16, 1998 in Sorcer Sound New York City, 1998年発表)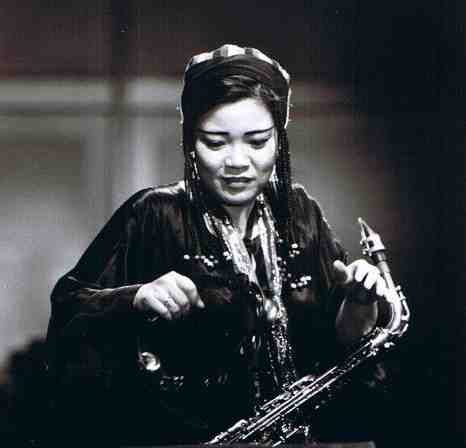 Swing MASA Jazz Saxophone & Voice / Feminist/Pacifist
MASA is a saxophonist & vocalist actively performing in Japan and the U.S.
Born and raised on Osaka, she started playing saxophone at age 12 and taking private lessons at 15.
After studying performing art at Osaka University of Art, she came to New York City to study saxophone at New School University under the guidance of Reggie Workman.
After receiving BFA, she has performed at Birdland in New York City, Michigan Womyn's Music Festival, Cherry Blossom Festival at (name), the St. Peter's Church in New York City, and Harajuku Quest Hall in Tokyo, Suginami Civic Hall, Kawachinagano Civic Hall, Tondabayashi Civic Hall, Fukuyama Civic Hall, Moriguchi Civic Hall in Osaka, and Dawn Center Hall in Osaka.
She has collaborated with a number of prominent artists, including Dennis Charles, Zane Massey, Ricky Ford, Bross Townsend, Cecil Monrro, Kuni Mikami, Satoshi Inoue, Suhir Blackeagel, Miche Braden, Ubaka Hill, Tishiko Akiyoshi, Masaji Otsuka, Yutaka Sadoyama, Kan Mikami, painter Susumu Sakaguchi, and dancer Shizuno Nasu.
She has recorded two CDs, "Akeno Hoshi o Miagete/Looking up at the morning star" and "Swing MASA Band" and appears as a guest musician for the recordings of Masaji Otsuka, Yutaka Sadoyama , Ubaka Hill, and Suhir Blackeagel.
She lives in New York City and travels extensively throughout Japan and the U.S.
E-Mail; swingmasa@aol.com
http://www.swingmasa.com